Valcastagno est situé dans un endroit idéal pour les sports, la relaxation et le bien-être: sur les pentes du Mont Conero avec ses nombreux sentiers, des routes et des activités.
Les environs, le Parc Naturel du Conero, est une oasis pleine de merveilles naturelles près de la mer et se trouve sur les douces collines des Marches, ou est possible de faire des excursions à pied, en vélo ou à cheval.
A quelques minutes sont les terrains du Conero Golf Club.
Ne termineront pas de surprendre les activités culturelles que nos région offres.
À Numana est situé un Antiquarium, un des musées les plus importants de l'Adriatique, qui abrite les trésors archéologiques qui racontent l'histoire du Conero et ses pentes du paléolithique à l'époque romaine tardive.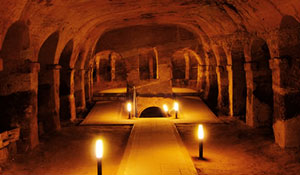 Camerano is well known as the city of underground wonders: there is a labyrinth of caves under the historical centre of the town excavated in the sandstone. The most accredited theory today is that the caves were used as homes, for worship or for defence purposes even in recent times considering that in 1944 the caves where used as a bombing refuse.
As well as Camerano, Osimo, wonderful medieval city, hides several caves in its depths.

However, you will find not only history and flavoursof the culinary tradition. Visiting Castelfidardo, for example, you can experience the famous artistical prestige of craftsmen of the  "World Capital of Accordions" and attend "not-to-be-missed" shows.